Quick Guide for Managers: Facilitating a One-on-One Discussion
Talent Insights is only available to customers on a Professional or Enterprise subscription plan. If you'd like more information, please contact your Customer Success Manager and we'll organise a demo for you.
Talent Insights is all about supporting people and teams to thrive! When people complete Criteria's personality assessment and join Talent Insights, they can understand what truly energizes them and where they contribute the most value. For managers, these insights provide the basis of powerful conversations with each of their team members.  
In this practical quick guide, let's explore how you can use these insights to accelerate the depth and pace of rapport with your team members. It provides you with guidance on how to prepare and conversation starters to help you have more meaningful discussions.  
Tips to remember  
Remain curious 
Show interest in your team member's success by asking questions and seeking input to facilitate a meaningful discussion. Listen to their concerns and provide feedback and ideas.  
Avoid assuming  
Remain sensitive and neutral when explaining behaviors. Remember there are no good or bad traits.  
Follow up 
Demonstrate to your team member that they take priority. Build and embed trust by following up on any agreed actions and continuing to keep them informed. 
Before the meeting: Prepare  
Dig into the rich insights   
Set aside time to review the insights available in Talent Insights so that you can be best prepared.   
What to review:  
Team member's Workplace Insights report  
This report is valuable for understanding your team member's natural strengths and opportunities for development.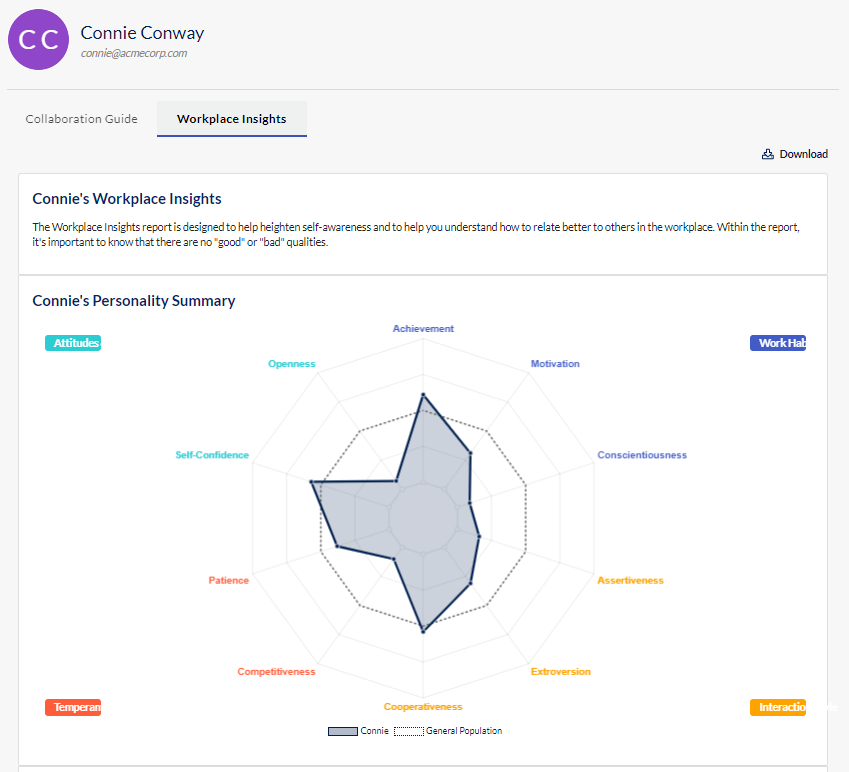 Take time to review your personalized Collaboration Guide to see how you compare in communication style, work style, and thinking style with your team member.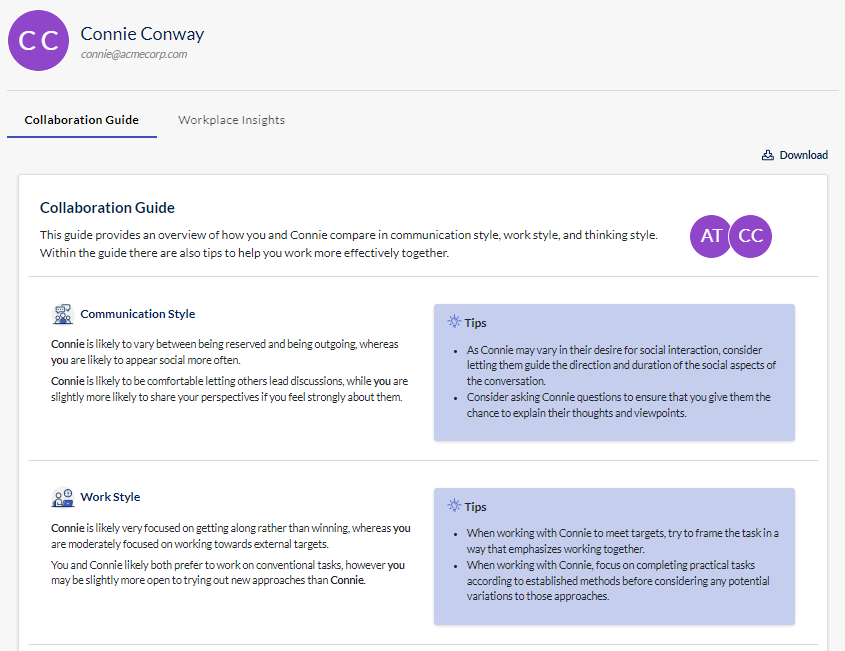 During the meeting: Discussion points  
Great managers are brilliant at discovering, developing and celebrating what's different about each person who works for them. Start the conversation by asking these open-ended questions.  
Questions for onboarding new team members  
What did you think of your Workplace Insights report? Any thoughts or reflections? 
Were there any surprises?  
Of the strengths identified, how do you see these assisting you to be successful in your role? 
In terms of the potential challenges, which of these resonate? How can I best support you in this area or situation? 
 Questions for developing your team member 
Let's look at the workplace challenges and motivators section together. What stands out to you? 
In the context of your role, how can I best support you? 
I see here you are less comfortable with [challenge]. Tell me more about what that means for you in your role? 
Is there a specific development goal you have in mind? Let's put in place a SMART (specific, measurable, achievable, realistic and timebound) Goal that articulates this. 
I see you are extremely comfortable with [motivators]. Are you finding ample opportunity to engage in this at work? 
Do you feel like you are able to leverage your strengths consistently at work?  
If so, which strengths are you utilizing and in what way?  
If not, how might we create opportunity for you to do so? 
---
---