Workplace Safety Profile (WSP)
At a glance  
Type of assessment 

Risk 

Measures 

Safety attitudes 

Risk-taking behaviors 

Likelihood of causing accident or injury 

Time 

The WSP is untimed and takes around 7 minutes to complete 

Format 

Candidates complete 46 self-report questions. 

Workplace outcomes 

Reduced workplace incidents, cost savings from property damage and compensation claims, reduced cost of insurance, strong safety culture 

Recommended for 

Ideal for roles that are safety critical including construction workers, mining, oil and gas workers, warehouse workers, drivers, and many more. 
Description  
The Workplace Safety Profile (WSP) is a risk assessment that measures a candidate's attitudes towards safety. The results provide a reliable indication of the likelihood that an individual will be involved in accidents or cause injury to themselves or others at work. The WSP can help organizations reduce the occurrence of workplace incidents and is primarily used for roles where safety behavior is an important factor.   
Format  
When candidates complete the WSP, they indicate the extent to which they agree or disagree with each statement. Candidates respond to each question by selecting one of the five options from an agreement scale, a frequency scale, or a probability scale. The assessment assesses a variety of beliefs about the self, other people, and the environment. It also assesses the extent to which candidates maybe distorting or faking their responses.  
Assessment questions are streamed in a random order each time a candidate completes the WSP. This feature provides a high level of test security by limiting the likelihood that candidates will be streamed questions in the same order, and reducing the possibility that candidates will collaborate when completing assessments.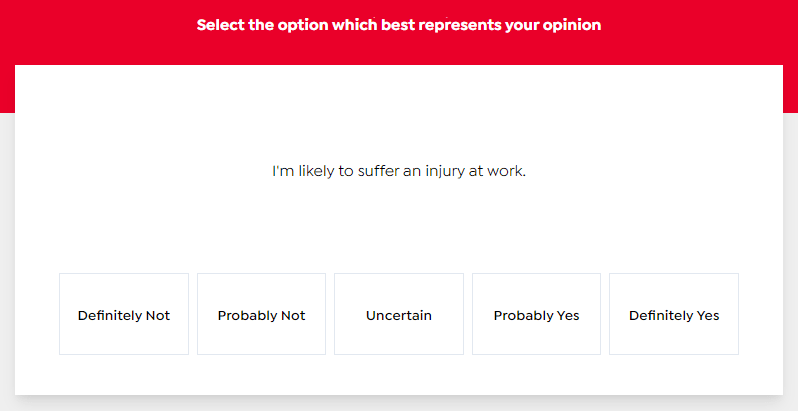 Measures 
The WSP measures three risk factors: 
Safety Control -  The extent to which an individual is likely to take personal responsibility for safety outcomes. Individuals with a high level of safety control believe they can influence whether an accident or injury occurs by the actions they take. These employees are more likely to adopt a proactive approach to safety and follow safety rules and procedures. 
Risk Aversion -  The extent to which an individual is likely to avoid risky behavior at work. Individuals with a high level of risk aversion are more cautious and careful in their approach to work. They are less likely to find risky activities exciting or thrilling, and are therefore less likely to take risks that lead to accidents and injuries. 
Stress Management - The extent to which an individual is likely to cope with stress on the job. People with a high level of stress management will cope better with stress and are less likely to be fatigued or distracted at work due to stress. 
Score Reports  
Each candidate is given a percentile ranking and an Overall Rating of High, Medium, or Low, based on the risk that the candidate may engage in unsafe behavior in the workplace. The score reports also provide scores for three sub scores, including, safety control, risk aversion, and stress management.  
Candidate Experience  
The WSP is a brief assessment that is optimized to be taken anytime, anywhere. The assessment provides a quick and seamless test-taking experience on any device. This provides a high level of flexibility and convenience for the candidate.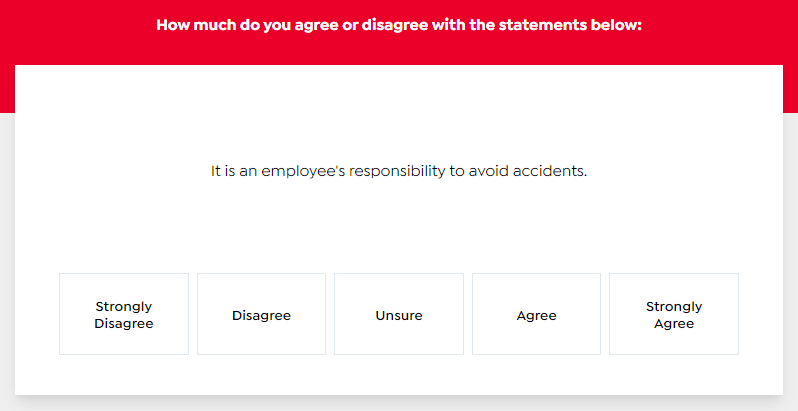 Standardization Sample
Norms for the WSP were developed using a sample of 2,117 people or 9,011 people (Long Form) from a global general population with over 50 different organizations represented from a wide variety of industries.
Additional resources  
| | |
| --- | --- |
| | Get an overview of the WSP assessment  |
| | View the sample reports available for the WSP assessment  |
| | A guide for interpreting the WSP Score Report  |
| | Watch the video on interpreting the WSP Score Report  |
---
---