Introduction to Live Interviewing
This tool is available as an add-on to your subscription for all Professional or Enterprise customers. If you'd like more information, please contact your Customer Success Manager and we'll organize a demo for you. 
To help you identify the best talent faster, you can manage your live interviews within the Criteria platform. Whether you are conducting your interviews via a phone screen, online or face-to-face, you can ensure they will all be structured, objective and reliable, using our Live Interviewing product.
All your candidate's data - for their application, assessment results, video interview and live interview - will be in one place, making it easier to evaluate their suitability for the role you are hiring for.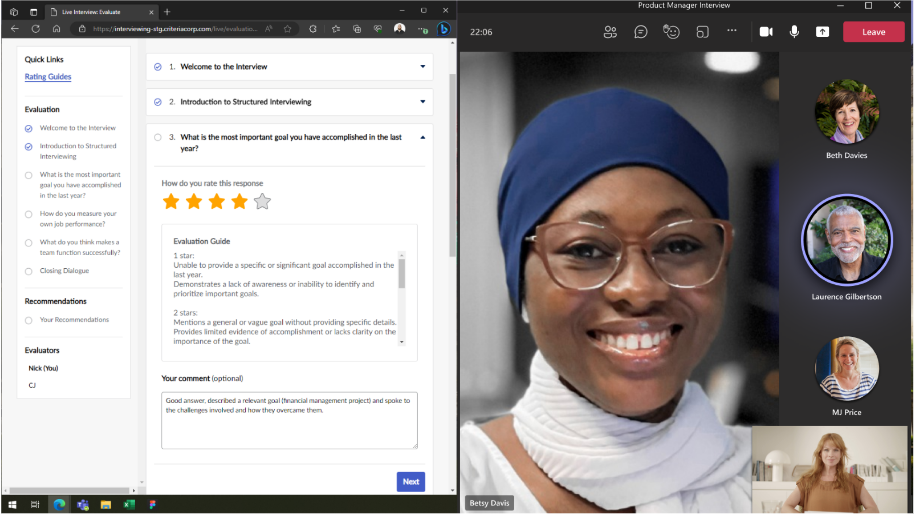 Add structured interviews to assessments for a more complete picture of each candidate 
The more reliable, objective information you have about your candidates, the more confidence you can have in your recruitment decisions. We recommend using 2 or 3 assessments early on to measure aptitude, personality and (if required by the role) skills, Emotional Intelligence, and risk propensity. Based on their results, you can then prioritise which candidates are most likely to fit your requirements and invite them to complete an interview. 
Research clearly indicates that structured interviews (in which every candidate responds to the same questions and is assessed according to the same criteria) offer twice the predictive validity of unstructured interviews, leading to better hiring decisions and reducing the likelihood of a poor hire. 
Streamline the interview experience 
Our Live Interviewing product is browser-based and can be used alongside any interviewing process and format, so you don't need to adopt and learn any new technology or troubleshoot new tools.
Your interviewers and hiring managers will be able to focus on evaluating potential candidates. They will have the tools and information they need to conduct each interview confidently, efficiently and consistently.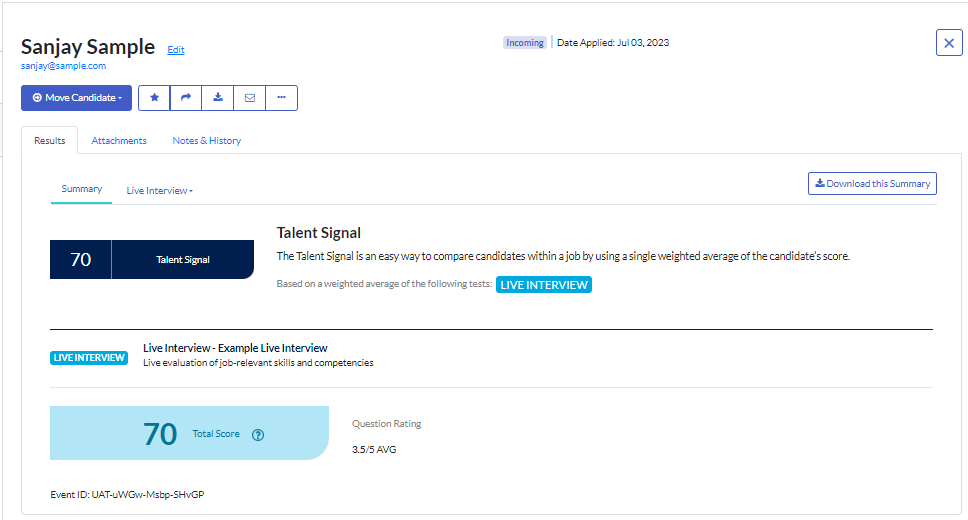 Candidate experience
Using the Live Interviewing tool, you will deliver an objective, consistent and fair experience for each candidate. Your candidates will appreciate having a professional, well-organized interview and their potential will be evaluated fairly, efficiently and objectively.
Learn more
To use Live Interviewing, simply create the interview template your interviewers will use to conduct the candidate evaluation, include the live interviewing step in your job, and add your candidates. Invite them to register for a live interview time that suits you both, then follow the interview guide to complete your evaluation of the candidates.
Click on the links below to view more information.
| | |
| --- | --- |
| | Research clearly indicates that structured, job-relevant interview questions that assess job knowledge, job-relevant past behaviour, or intended behaviour in job-relevant scenarios are the best predictors of performance. Click here to view our definitive guide to structured interviewing. |
| | Choose from a library of standard questions, or create your own, to build an interview template to evaluate your candidates. |
| 1 Preparations for Creating a Job | There are many variables to consider when setting up your job, to ensure it follows your organisation's recruitment process. These How To Guides will step you through the process. |
| | Once you have created a job that includes a live interview step, you are ready to invite your candidates to interview. |
| | Easily add a link from the most commonly used calendar tools into your recruitment process, and from your Criteria account, invite your candidates to select an interview time that works for you both |
| | Each interviewer evaluating a live interview is given a unique link to the Interview Guide for the candidate. Here's how to locate and send the evaluator links. |
| | Use the Interview Guide to manage the live interview with your candidate and evaluate their responses. |
| | Criteria's organizational psychologists have compiled some best practices for using the Interview Guide. |
| | Once the minimum number of evaluators have finalized their evaluations of your candidates' live interviews, you can view the results in your Criteria account. |
---
---