Candidate Demographic Questions
In order to ensure that our tests are fair and non-discriminatory, Criteria collects confidential basic demographic data from job candidates.
What are these demographic questions?
The demographic questions we ask are optional for candidates to complete and we let candidates know that they are for research purposes only and are not shared with the employer. They are: Race / Ethnicity, year of birth, gender, education level, first language, industry of current or most recent job.
Here is what your candidates will see when they open the candidate centre: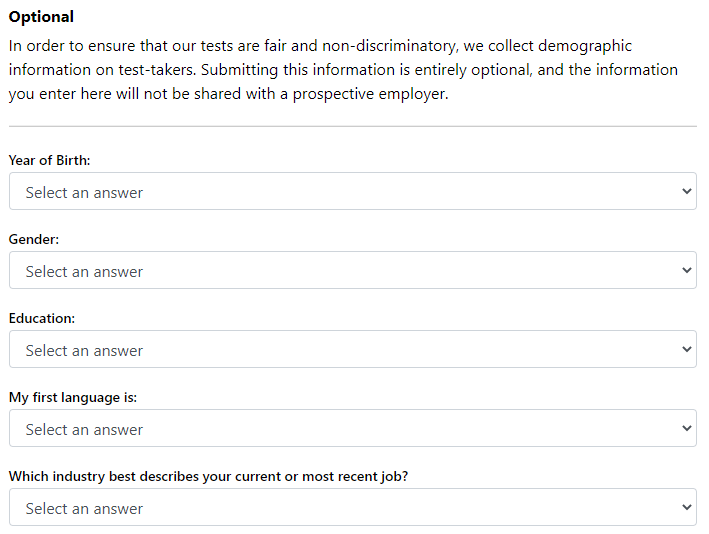 Why do we ask for demographic information?
We ask for demographic information because it helps us to ensure that our assessments are fair and unbiased for people of all ages, races, and genders, and because it helps us understand how factors like industry background, educational level, and language proficiency influence assessment responses. The information we collect through these demographic questions is necessary for us to comply with requirements under the EEOC Uniform Guidelines for Test and Selection Procedures and to produce technical information on our assessments as per the Principals for the Validation and Use of Selection Procedures published by the American Psychological Association.
Is it legal to ask for this information?
It's legal for an employer to ask pre-employment questions about protected group membership, such as race, age, or gender, under certain circumstances. As outlined by the EEOC, these circumstances include legitimate business needs such tracking applicant flows and managing affirmative action procedures. In our case, we have a legitimate business need because it's necessary for us to produce assessments that can comply with the EEOC's Uniform Guidelines and the APA's Principles.
When protected group membership information is collected as part of the application process, it's essential to ensure that the information is not passed on to decision makers in the selection process (e.g., it's a "tear off" section on a form). In our case, we do not give our customers access to the demographic information we collect – we use it only for aggregated research.
Do my candidates have to provide this information?
No, answering the demographic questions is on a purely optional, opt-in basis. Candidates are advised that submitting their demographic information is entirely their choice and that the information will not be shared with any prospective employers.
I don't want to ask my candidates these questions. Can I turn this off?
Criteria accounts created after 12th December 2022 will automatically collect demographic data. If you do not wish to ask your candidates these questions, you can disable this in your Company Preferences. You can turn demographic data collection on or off at any time.
---
---