Live Interviewing: Evaluator Links
If this is not currently available in your account please reach out to your Account Manager to discuss your subscription.
Once you have created your Live Interview template and added your candidates to the Live Interviewing step in the job in your Criteria account, you are ready to schedule your candidates for the interview. How you choose to manage this will depend on the type of interview you are conducting - phone screen, online or face-to-face interview - and your organisation's process.
Although your Criteria account does not have an interview calendar, you can easily add a link from your calendar app to an email to your candidate, inviting them to register for the interview.
Note that there is no expiry date for Live Interviews assigned to your candidates in the Criteria platform so there is no need to update this if the interview is delayed for some reason.
During job creation
When adding your candidates to the Live Interview step in your job, you have the option to send your evaluators their evaluation link. Evaluators will receive one email per candidate.
Each evaluator has a unique link for each candidate, so their rating and comments can be attributed to them.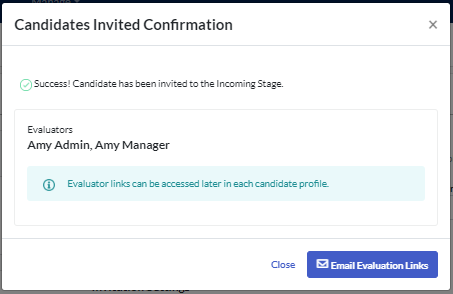 Email evaluator links
If you did not send the evaluation links at that point, or the evaluator does not have a copy of the email, you can resend it from the candidate card in the job.
Within the job, locate the candidate and click on their name to open their candidate card.
In the Results tab, if the Evaluators section is not showing, click Live Interview and select Evaluators from the list.

Locate the evaluator you are sending the email to and click Email. If you need to send the email to all evaluators, click Email All Evaluation Links.

The button will change to Email Sent and be temporarily locked out, however refreshing the page will make the option available again.

Each evaluator will receive an email with general information about the interviewing process, along with their evaluation link for that candidate.
Copy evaluator links
The evaluator email is not customisable, however if you wish to send a customised email to your evaluators, you can send the email from your email app and add the evaluator link from the system.
In the candidate card, go to the Results tab and open the Evaluators section under Live Interview.

Click Copy next to the evaluator name and paste it into your email to the evaluator.

Add your custom text to the email and send it to the evaluator.
---
---