Recruiting for Sensitive Positions (Limiting Access to Results/PII)
Recruiting for a sensitive position such as CEO? You may need to restrict who has access to view details about candidates and their assessment results.
Here are some ways that the Criteria platform can be configured to protect candidates in sensitive positions.
Sharing results
You can restrict which users can see the candidates and results in a job. To do this, open the job and click the Settings wheel in the top right corner of the screen.
In Candidate Management, click to Edit the "Sharing" options.

Click "Advanced Sharing" and select the users who need access to edit the job, send out assessment invitations and view results. Save any changes.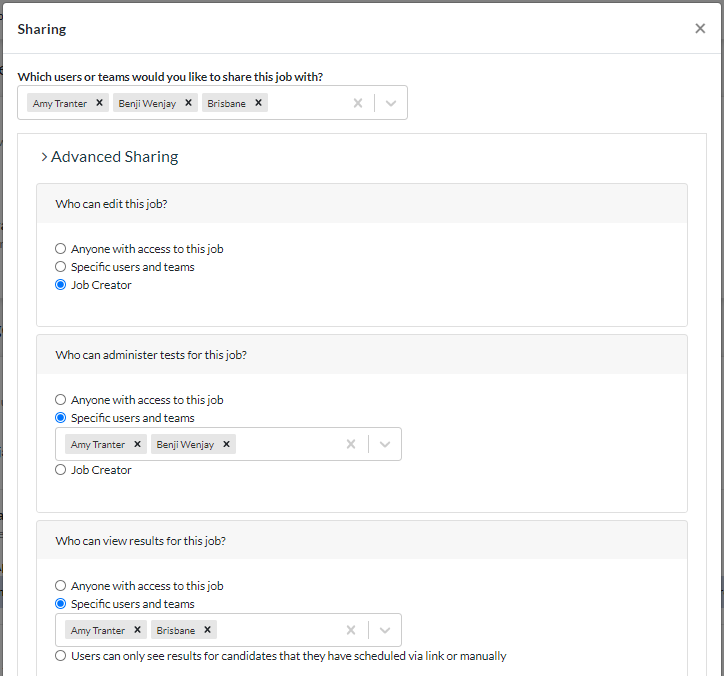 Users who have access to the job but not to view the results will not be able to see the candidate names or assessment results.
Make Private
You can make individual candidates private so that only Admin users can see their record in the job and view their results.
The "Make Private" function is enabled on an individual candidate basis, so the candidate needs to be added to the job first.
This function is useful if you are manually adding small numbers of candidates to the job to complete assessments and you want to restrict who has access to their information.
Open the candidate card and click …More Actions. Select "Make Private" from the dropdown list.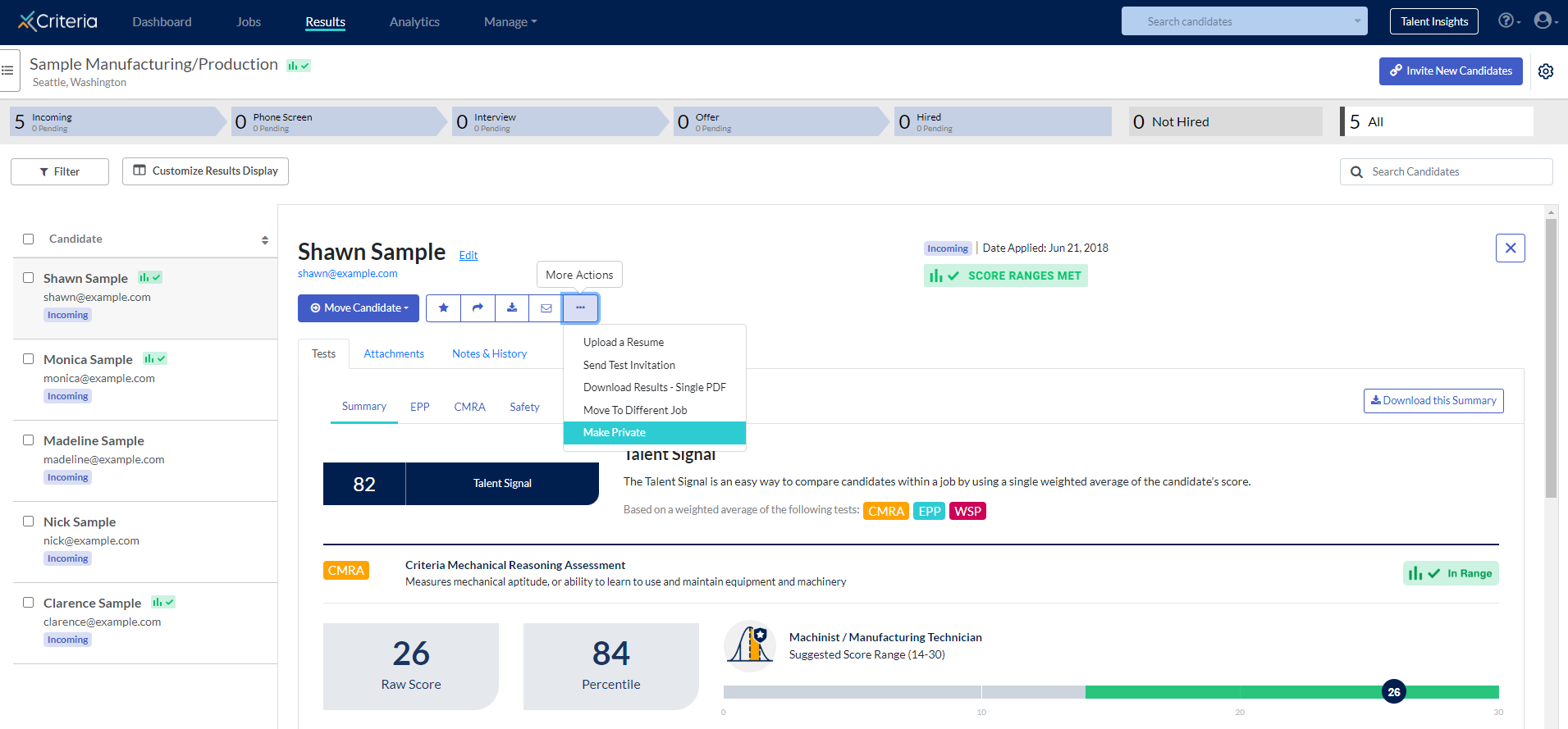 Click "Yes" in the popup confirmation box.

No PII (Personally Identifiable Information)
Admin users can disable the collection of personally identifiable information in Company Preferences. This will affect the whole account so no jobs will ask for candidates' names or email addresses.
You might chose this option if you have a separate applicant tracking system and do not want to add your candidates' personal details into the Criteria platform.
You will need to manage the connection between the candidates' records in the Criteria platform and the actual candidate details in your own system.
Click the avatar icon in the top right corner and select Company Preferences from the dropdown list. Toggle the No PII (Personally Identifiable Information) button on. At the bottom of the screen, click "Save Company Preferences".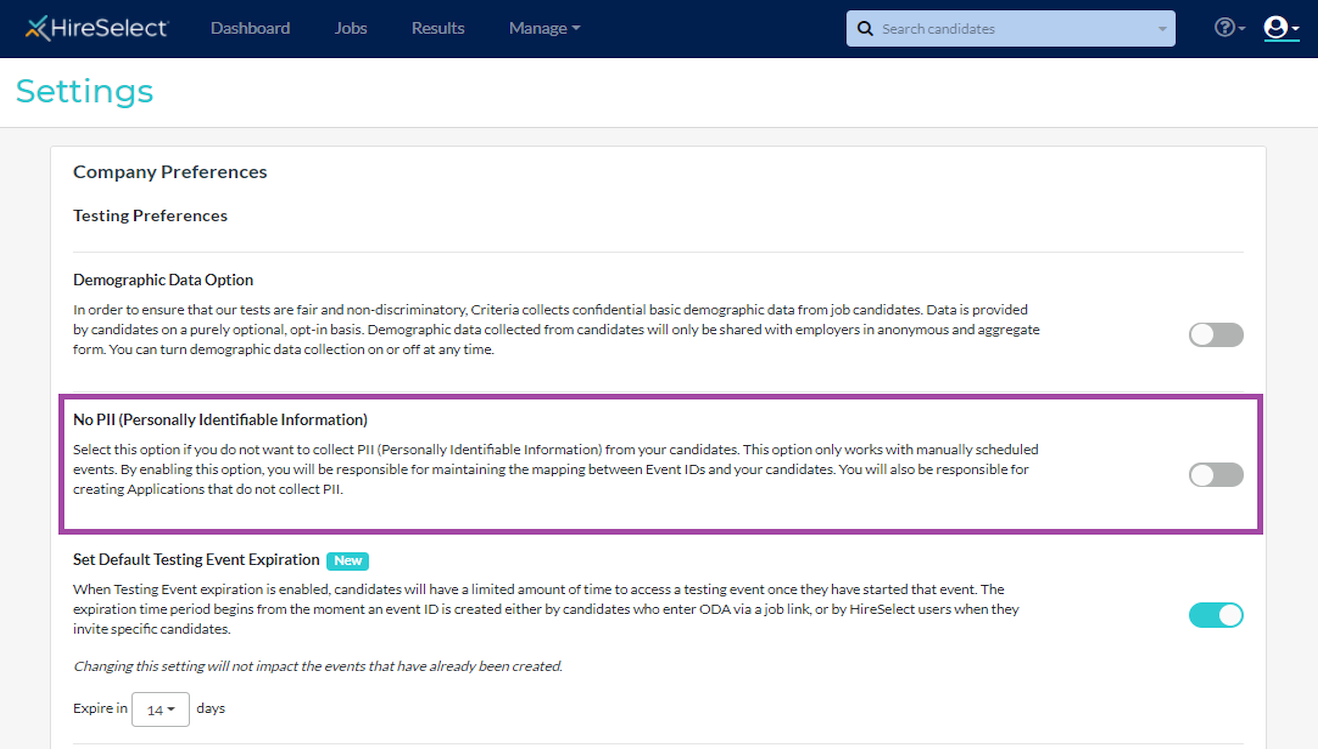 When you add candidates and invite them to complete assessments, the system will ask how many invitations are needed and use the Event ID in place of the candidate name.
Access Roles
Users with the Admin access role can view all jobs and all candidates' results, even if the job has not been shared with them.
If only some users are to have access to job (and some Admin users are not to have access to the job), copy the Admin Access Role type and remove access to viewing results from the Jobs & Results tab. Give all users who need Admin access but not access to the sensitive role the copied and modified access role. Any users who need to access the job are then given access in the job's settings.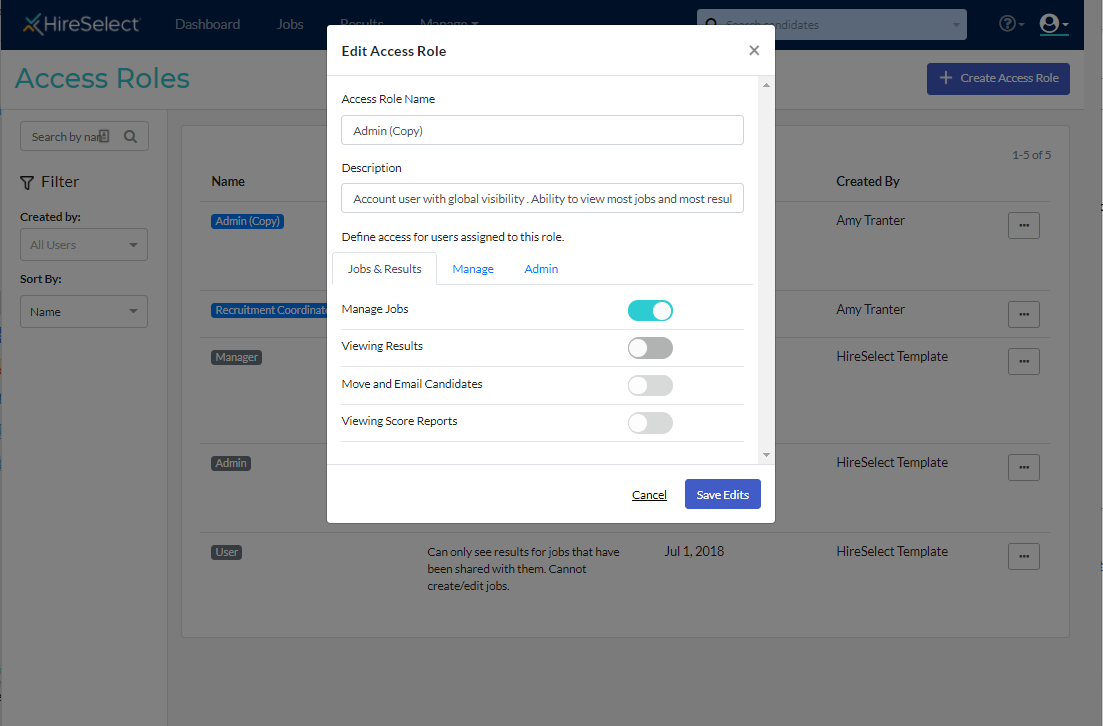 ---
---