Inviting Candidates to Complete a Video Interview
If this is not currently available in your account please reach out to your Account Manager to discuss your subscription.
Sending invitations to your candidates
View a quick walkthrough video below.
You can see at a glance on the Jobs List screen which jobs have a video interview associated with them. In the Events column, the Video Interview pill appears next to the job.

On the Results screen, video interviewing is denoted by a camera icon in the pipeline stage.

To invite candidates to complete the video interview, you can save time by adding automation steps to your pipeline to automatically move candidates who meet your criteria to the video interviewing stage.
If you prefer to manually review your candidates' applications before progressing them to a video interview, you can drag and drop them into the video interview pipeline stage. Candidates will automatically be sent an email inviting them to complete the video interview once they are moved to the video interview pipeline stage. Click here to learn how to send custom invitation emails for each stage in pipeline.
If you have added the video interview to the Incoming stage, you can manually invite your candidates to complete this. If you have not selected your custom video interview invitation email template to be the default for the job, you can select it while you are setting up the invitations.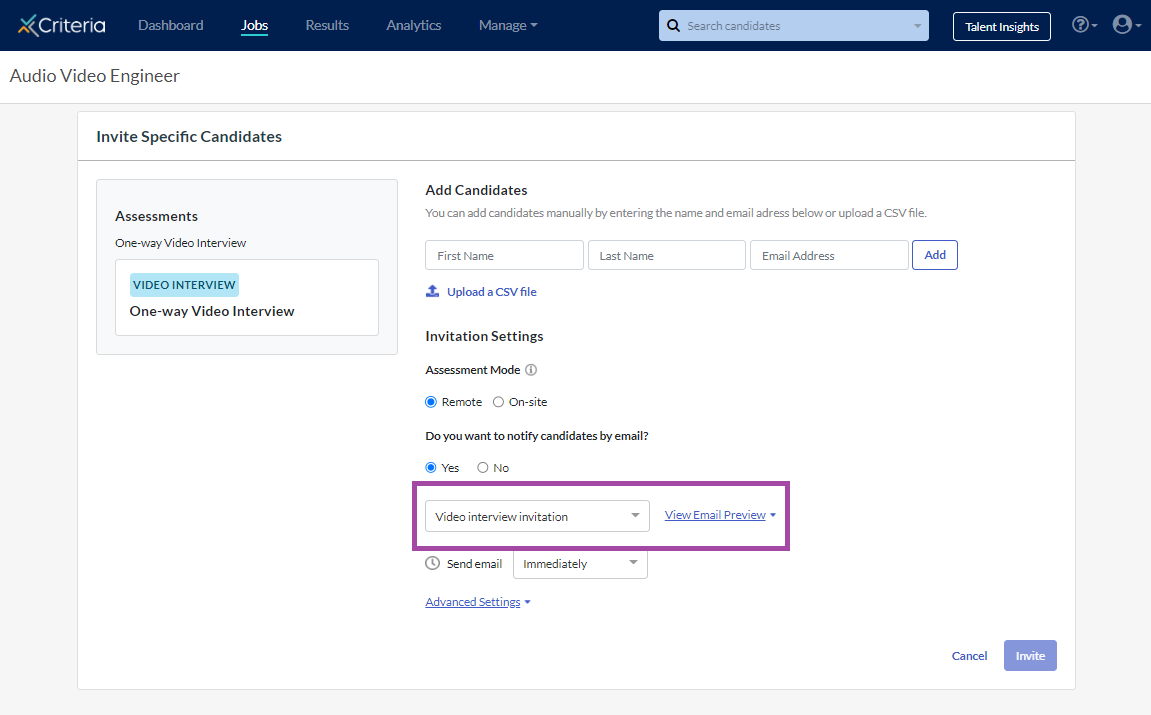 Manually send candidate invitations - through a separate email
You can manually send candidates a video interview through a separate email by copying the job link in either the Jobs or Results section.
In the "Jobs" section, click "... More Actions", select "Copy Link" from the drop down menu.

In the "Results" section, click "Invite Specific Candidates" in the top right corner.

In the "Invite Specific Candidates" section, click "Copy Link"

This job link can be pasted into a separate email and sent to candidates inviting them to take a video interview for the selected job link.
Extending invitations and resending the invitation email to candidates
Extending your candidate's invitation to complete a video interview is as easy as locating the candidate and selecting Extend Invitation. Click here to learn more.
You can resend an invitation email to a candidate who no longer has access to the original invitation, or to let your candidates know that you have extended the time they have to complete the interview. Here's how.
Inviting a candidate to a new video interview
If your candidate was unable to successfully complete the video interview - perhaps their microphone was muted or they were interrupted during the recording - you can send them a new invitation to complete the interview again. Click here to learn how.
Accommodating Accessibility Requirements
At times you may need to make a reasonable adjustment to the video interview to accommodate a candidate's needs. Click here to view how to adjust a candidate's interview.
Candidate Experience
When we set up video interviewing for your Criteria account, we can customize it with your branding to make your candidates' experience more engaging. This includes your logo, color palette and the exit page candidates are directed to once they complete the video interview. (For example, you may want to direct candidates to your organization's website or LinkedIn account.)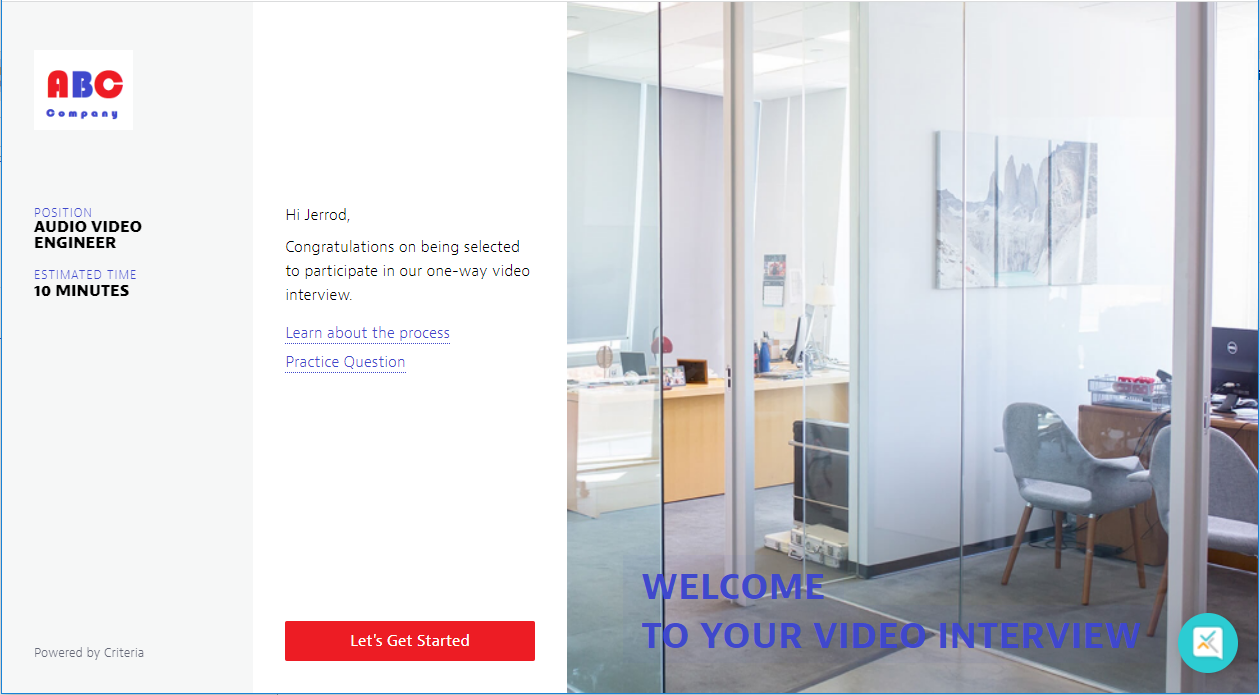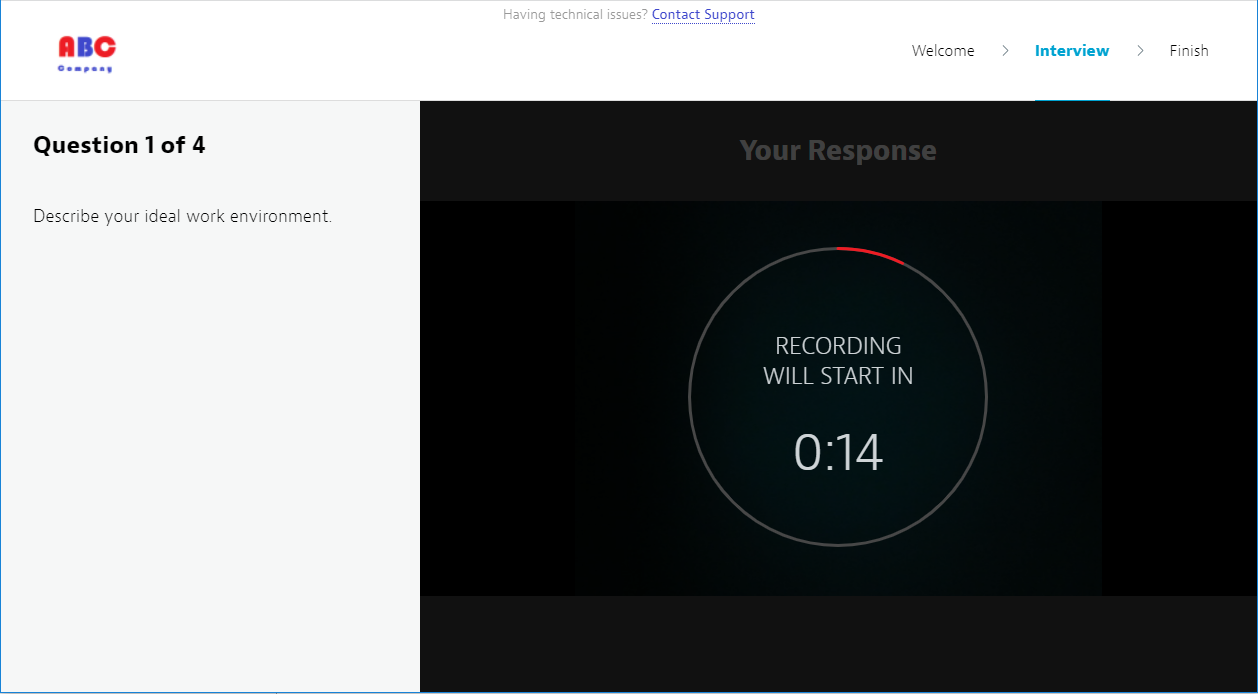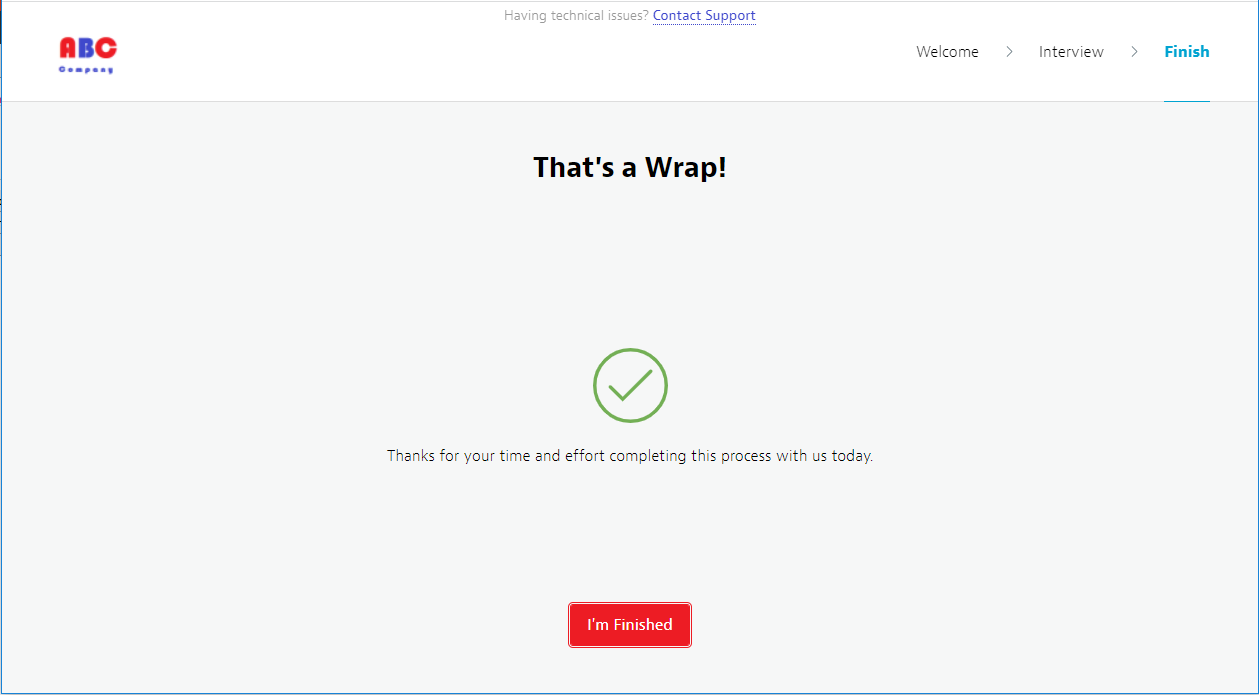 Next Steps
Once your candidates have completed their video interviews, it's time to start reviewing their responses.
Click here to view more information about using video interviews.
---
---