Illustrait is Here!
Criteria customers can get an accurate, targeted picture of their candidates' personality and competency potential with an adaptive assessment that's made for work.
Illustrait is our shiny new personality assessment, and we're really excited to share it with you.
Illustrait gives you a hyper-targeted, highly job-relevant method of assessing whether your candidates have the competency potential required for successful performance in a specific role. 
What does that mean?
The concept behind Illustrait is that a candidate's potential for each job can be assessed using a subset of Illustrait's 38 competencies. For example, the most relevant competencies for a sales job might be: Selling, Client and Customer Service, Delivering and Persevering. Illustrait only measures the competencies required for successful performance of the role your candidate is applying for
Choosing the competencies means that Illustrait only asks questions that are directly relevant to the job, and means you can customize the assessment to assess almost any job, from an entry-level warehouse assistant (who needs to be able to organize and plan effectively and check and monitor their work) to a senior sales manager (who can sell effectively, manage others, critically evaluate information, make insightful business decisions and deal with conflict). 
You can check out the full list of 38 competencies here and see why we can confidently say, "There's a competency for that".  Link coming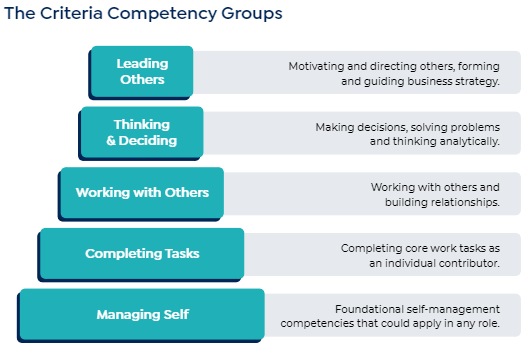 How do I use Illustrait?
There are two ways you can select the relevant competencies for your job: 
Enter the job title in the Criteria platform and the system recommends 2-6 competencies.
Choose the most appropriate competencies from our set of 38 based on the role requirements and/or your own capability or competency framework. We recommend that you choose a maximum of 6 competencies for a job.
Once your candidates complete Illustrait, you get a score report that indicates: 
Overall competency potential for the selected competencies
Detailed information about the behaviors you can expect based on each candidate's competency potential
Tailored interview questions based on each candidate's responses. 
How can I learn more?
To learn more about Illustrait, click here.
Click here to view our How To Guide on Creating and Using a Competency Set.
To see the answers to some common questions about Illustrait, click here.
---
---