How to Use the Collaboration Guide
Talent Insights is only available to customers on a Professional or Enterprise subscription plan. If you'd like more information, please contact your Customer Success Manager and we'll organise a demo for you.
The Collaboration Guide report provides insights and actionable tips for strengthening collaboration with colleagues and team members. The insights and tips are personalized based on your personality test results and your colleague's and team member's personality test results.  
1. Get to know your team member 
Take time to review your personalized Collaboration Guide to see how you compare in communication style, work style, and thinking style with your colleague.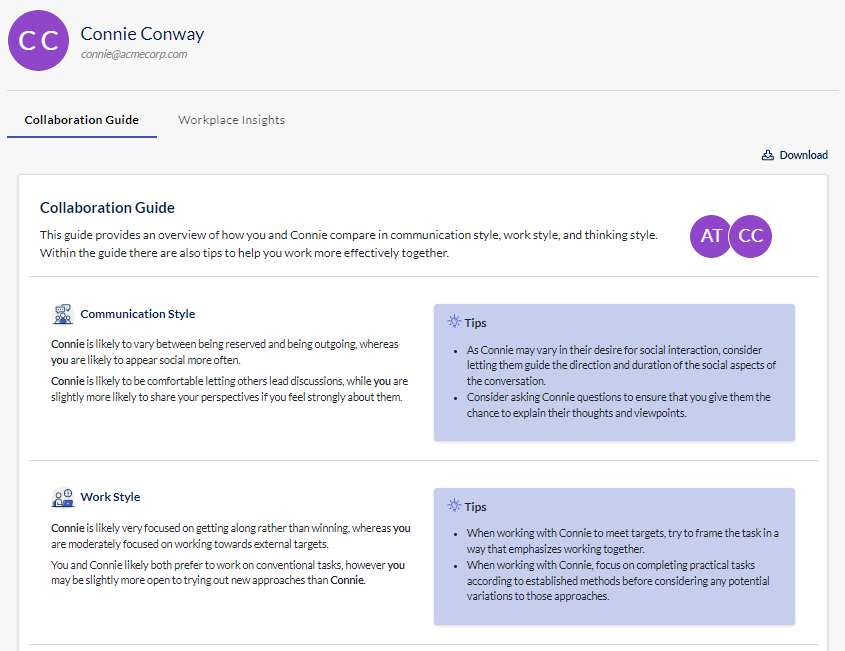 2. Follow the tips for better collaboration 
Within the report, there are practical tips to help you work more effectively together. Consider these tips when engaging with your team member.  
Tips to remember 
Use language such as "us" and "we" to demonstrate your commitment to collaboration. 
Establish and review shared goals for your working relationship. 
Normalize asking for and providing constructive feedback. 
Where feasible, ensure each person has ample and equal time to contribute. 
Wrap up with clear next steps and accountabilities. 
During the getting to know you phase, seek specific examples using the collaboration guide as conversation starters. 
Remember great collaboration starts with acknowledging differences and learning to appreciate complementary differences and how best to use them in the workplace.  
---
---